'CONFEDERATE BUSHWACKERS' 
SERVING FLORIDA AND SOUTH GEORGIA
ON ALL LOCAL CONFEDERATE ISSUES
Our Cause - Defending Confederate Heritage in Belleview, Florida
We are dedicated to preserving the Honor and Integrity of the Confederate Cause.  Our mission is to compile and address all cases of Anti-Confederate vandalism, harassment and assault.
Incidents of Anti-Confederate Harassment & Assault
For decades Marxists in the media, Hollywood and alphabet agencies such as the C.I.A. have been influencing (brainwashing) the public with false premises why the South fought for Independence
Below are Videos of the Annual Flag Raising Ceremony at Belleview City Hall. The Flag Raising Ceremony is Conducted in a Safe and Orderly Manner and is Welcomed by the Vast Majority of the Public (excepting the Marxist Big Media)
An anonymous informant, within the media, alleged that the media's intent was to cover the Confederate Memorial flag raising at Belleview City Hall in the hopes of generating some opposition which they could then push through their media outlets. The media's strategy worked. The mayor and Belleview city council then caved in and disallowed any further Confederate Memorial flag raising services, with the excuse that it was a "safety issue". There is no "safety issue".
Fully 33% of the Men that Florida sent to defend the South, died at the hands of Union barbarians
There will ALWAYS be some individual or organization objecting to or being "offended" by something. Prior to the Confederate Flag raising ceremony 'issue', the City of Belleview was besieged by a complaint regarding a prayer prior to a meeting. Take note of the
link to the article below on "1782 Congressional authorization to print 10,000 Bibles".
It was grand-sons of Confederates that fought and died to defeat the Germans of WWII. These sons and grandsons of the Confederacy made up over 80% of the U.S. Armed forces in WWII. Yet, the ADL, ACLU and B'nai B'rith and virtually all the media routinely associate anything "Confederate" with "Nazis".
'Voices of Reason' Harassment
The organization 'Voices of Reason' has opened a pseudo website of the Lake County Historical Museum 
to harass and personally attack the curator of the museum, Bobby Grenier.
Bobby has since resigned the museum after many years of service.  All this over a Confederate statue.
Confederate flag raising in marion County, Florida
In the City of Belleview, Florida, Mayor Christine Dobkowski this year, 2020, has stopped the decades long traditional Confederate flag raising ceremony with the excuse of "safety reasons".
anti-Confederate Media Bias
The US media systematically skews information, such as reporting news in a way that conflicts with standards of professional journalism and promotes a political agenda through entertainment media
Lincoln's War,   1861 - 1865
A WAR WHO'S ONLY REAL GOAL WAS TO RE-ESTABLISH THE FINANCIAL DOMINATION
OF THE CORRUPT NORTHERN INDUSTRIALISTS AND BANKERS
Northern Dissenters Imprisoned
Defending Confederate Honor

Confederate Values and Principles Remain Important ! 

The Confederate flag and other Confederate symbols including Monuments
and Memorials represent the same principles as the original U.S. Betsy Ross flag
-Limited Constitutional Federal Government, States' Rights', 
Resistance to Ty
ranny, 
and Christian Values and Principles.
THESE UNION TYRANTS ARE TODAY REVERED BY THE MODERN ESTABLISHMENT
YET THESE TYRANTS DESTROYED THE CONSTITUTIONAL REPUBLIC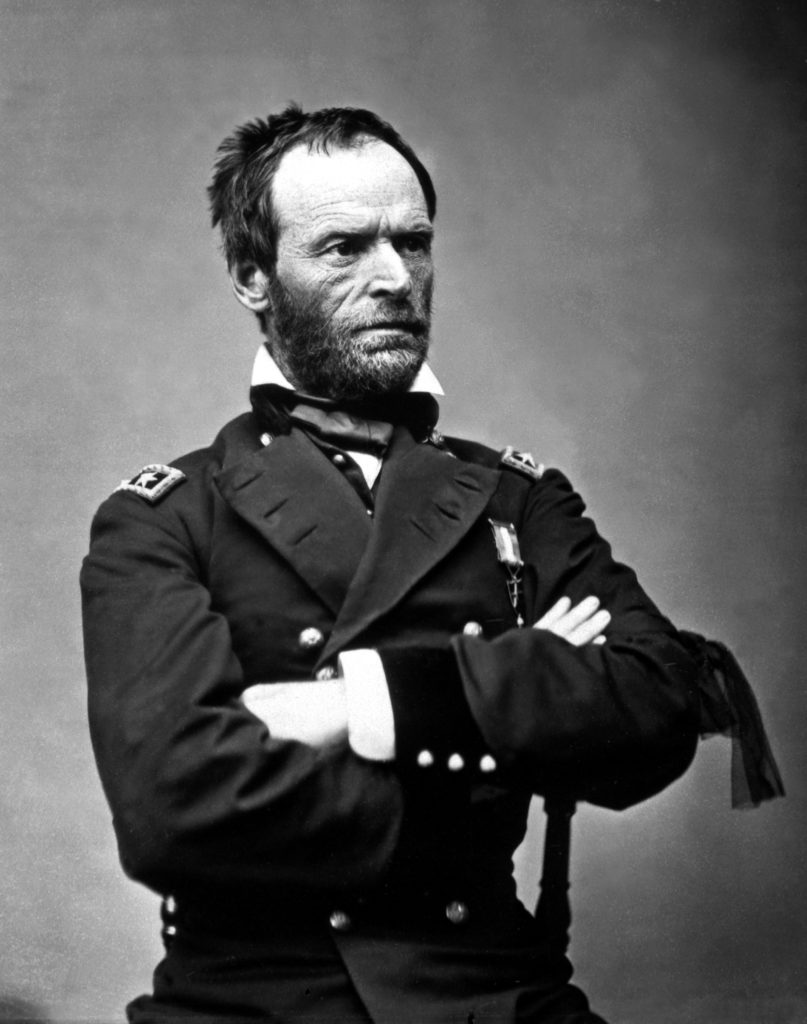 The most dramatic forgotten atrocity in the Civil War occurred 150 years ago when Union Gen. Philip Sheridan
unleashed a hundred mile swath of flames in the Shenandoah
Valley that left vast numbers of women and childrens tottering
towards starvation. 
Because residents of the region lived within the borders of a state that had seceded from the Union, Sheridan acted as if they had automatically forfeited their property and their lives. Even some Union soldiers were aghast at harshness of Sheridan's marching orders.
Grant, committed the worst official act of anti-Semitism in American history. It was a war crime that went unpunished, and today it is all but forgotten. It happened two years into the Civil War when Gen. Grant ordered every Jewish man, woman and child out of a vast military district under his control.
Had the Civil War ended with a different outcome, Lincoln and many of his generals would have been deservedly tried as war criminals.
 Lincoln suspended the writ of Habeas Corpus, closed courts by force, and arrested citizens and elected officials without cause.
Lincoln's troops razed the South and doomed to poverty–generations of Southerners for many years to come.

Teaching Confederate Southern Values
The Georgia Confederates Youth Camp
southern News & Headlines
Confederate Values and Principles Remain Important !
The Confederate flag and other Confederate symbols including Monuments

and Memorials represent the same principles as the original U.S. Betsy Ross flag

-Limited Constitutional Federal Government, States' Rights', 

Resistance to Tyranny, and Christian Values and Principles.

Defending Southerner and Confederate Honor Against Marxist Lies
MARION BUSHWACKER
"TRUTH is our primary weapon"
CONFEDERATES FOUGHT NOT FOR CONQUEST
BUT FOR INDEPENDENCE AND THEIR OWN HOMES
Lee had the courage of his convictions and selflessly sacrificed his own peace and prosperity for the cause of independence, a government "of the people, by the people, and for the people."
Calvary General Nathan Bedford Forrest was greatly feared by  Union Generals Sherman, Grant and Sheridan.  Forrest's tactics and strategies are still studied by military cadets today. Forrest was the most remarkable man produced by either side. 
 "My religious belief teaches me to feel as safe in battle as in bed. God has fixed the time for my death. I do not concern myself about that, but to be always ready, no matter when it may overtake me." 
Quote by General Stonewall Jackson
Start Your Journey to better Southland !